The wedding day can be preserved impeccably in pictures for a lifetime. Here at David Silis Photography we provide high quality photography services for this memorable day, due to our experience, creativity and state-of-the-art camera gear. We will work around the newlyweds' ideas, in order to project the vision and images they want through our services and we will capture all the moments that they cherish. We can take photos at your established locations, but we can give you ideas for a couple of minutes getaway photo shoot as well.
David Silis Photography offers the perfect variety of packages when it comes to wedding photography. You can find the golden package, which is a little on the expensive side, but it guarantees full wedding day coverage and a pre-wedding or engagement photo shoot, the silver package, which is affordable and perfectly put together, including full coverage for the big day, and the half day package, which provides half day coverage.
Golden  WEDDING package  – £1399
The golden package costs £1399 and offers full day coverage – up to 12 hours – and also a pre-wedding or engagement shoot. Whether you need a photographer before the ceremony at the bride's house, during the ceremony at the church or at the reception venue, we will be there for you. For the same package we also provide an unlimited number of photographs, a DVD/Flash Drive with all the photos taken sliding on background music, the full resolution pictures and  A4 size printed "Digital Storybook".  Your pictures will be post processed and turned into timeless stories. wedding photographer manchester
Silver WEDDING package   -£799
For £799 you can acquire the silver package that guarantees full coverage for the wedding day – up to 10 hours.  No matter if you need every step of the big day captured on camera, or you like to take portrait photos with your guests and loved ones,  at David Silis Photography we will satisfy all of your photography needs with an unlimited number of photos through the wedding day. The package includes post production services – colour and black&white -, a DVD slideshow with background music for the pictures and a flash drive on which are stored the full resolution images. wedding photographer manchester
Half day WEDDING package  – £399
The half day package costs £399 and, as it says its name, it offers half day coverage – up to 4 hours –  for your wedding. You choose when you would like us to start shooting and from that moment we will constantly throughout the covering time. Either you need us for your ceremony,  at the reception or any other place, we will validate our creativity, discretion and the excellency of our services. We provide you with all pictures taken on a DVD.
You can also acquire extra services next to the mentioned packages, like a second photographer, an individual menu design or gift vouchers. The whole selection and fees can be found below.
WEDDING

VIDEO

PACKAGE – £850
David Silis Videography  values the importance you give to your big day, the wedding day. And we want to capture all of the important moments and help you relive this particular prodigious day with the help of your wedding video. We specialise in pointing out the aesthetic sense of your wedding day. Knowing the fact that your wedding day is a unique event, that can not be captured on film afterwards, choosing experienced wedding videography services is vital. Full day coverage (up to 10 hr) Video editing, Highlights film – up to 3min, Feature film (usually around 20-35 min) Bride or Groom preparations, ceremony, speeches and everything in-between…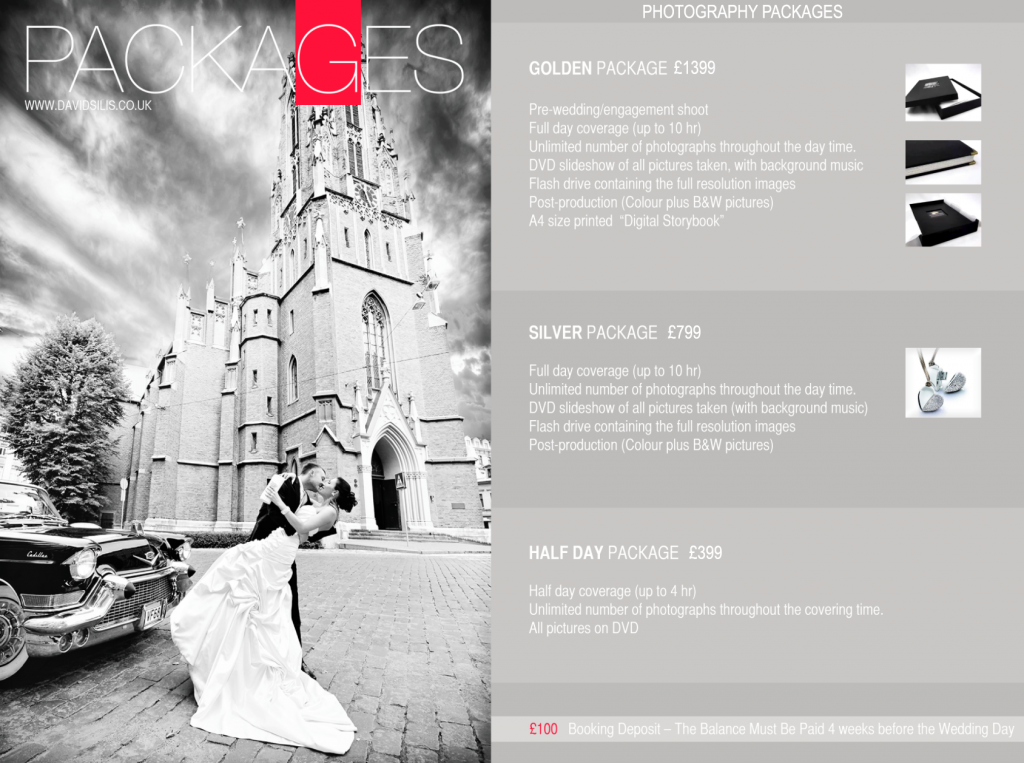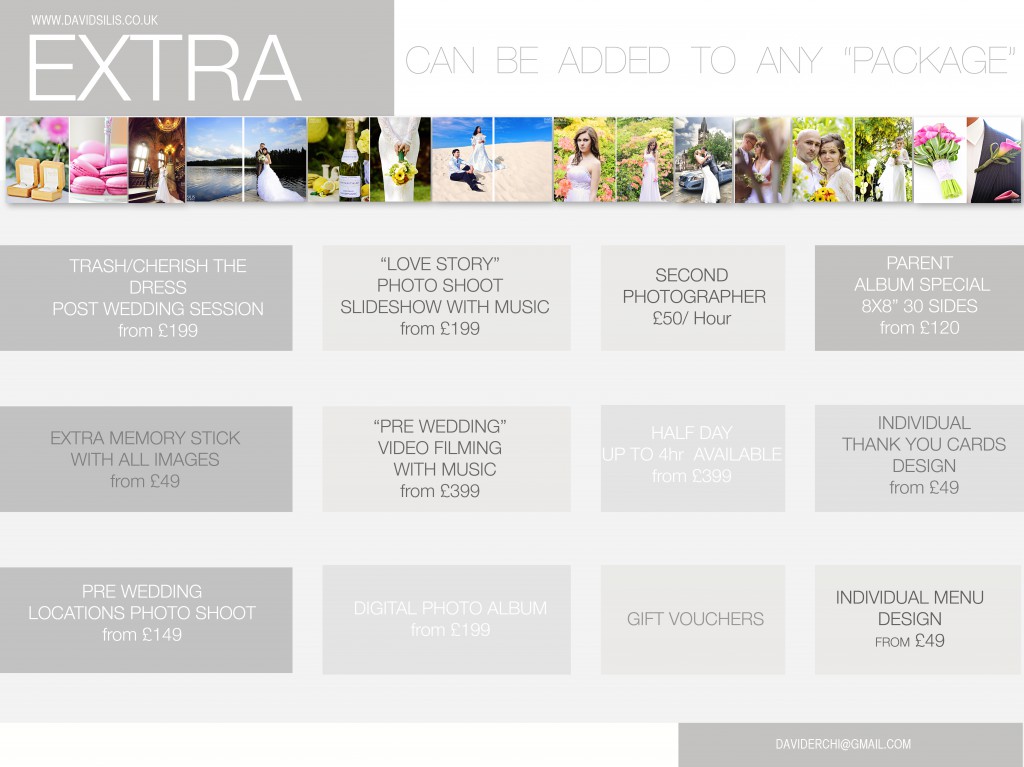 Warrington wedding photographer